This document is created to describe step-by-step details to install SurveySensum Outlook plugin.
With the Outlook Plugin you can add your designed survey in any of your emails.
After creating a survey, you can embed it to your outlook emails with an included signature. When the recipient answers the surveys, their email, subject line, people who are in the "To" and "CC" are captured in the survey data for further analysis. These parameters are required to be set while designing the survey distribution in the "metadata parameters" field.
Now, let's break things in 2 steps:
Connect the plugin to Outlook Mailbox

Create Survey and share using Outlook Plugin
Connect the plugin to Outlook Mailbox
Step 1. Open you outlook mailbox and Click on "Get Add-ins" under Home menu ribbon.

Step 2. Search for SurveySensum under All add-in options and click on add.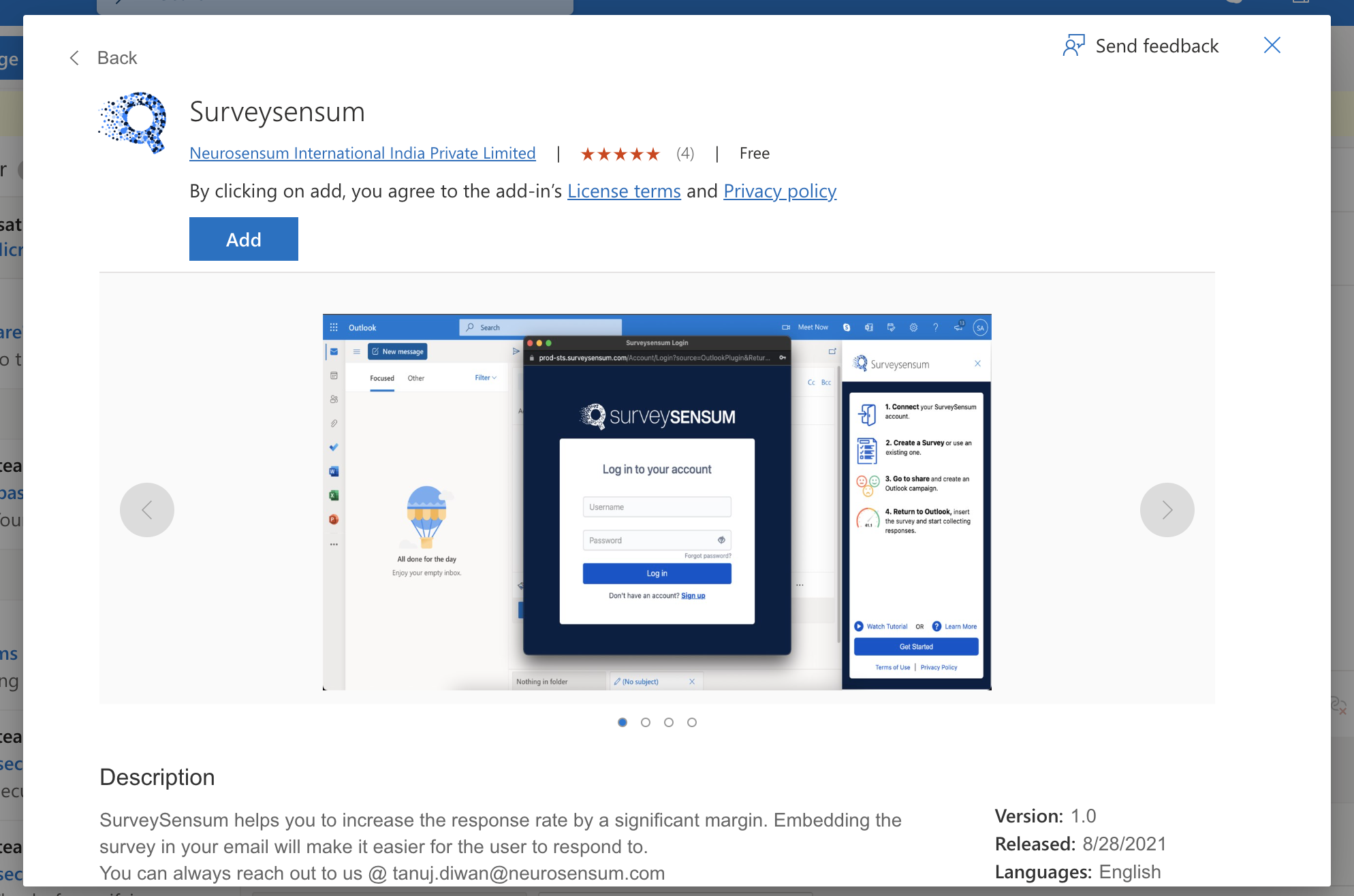 Step 3. Now, it is added. To see this in your add-in list click Back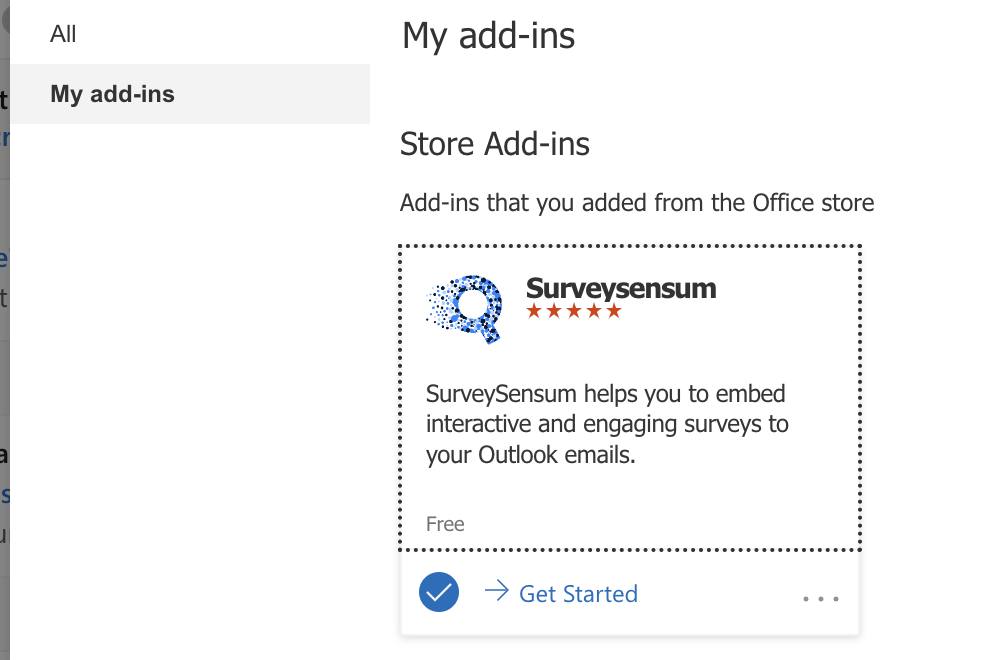 Step 4. Connect SurveySensum Outlook Plugin to SurveySensum Portal
Let's go to your outlook and click on New Email option and select SurveySensum outlook plugin from ribbon (or triple dot menu in case of web version)
Step 5. Click on Get Started to connect to SurveySensum portal. Login or Sign-up to authenticate.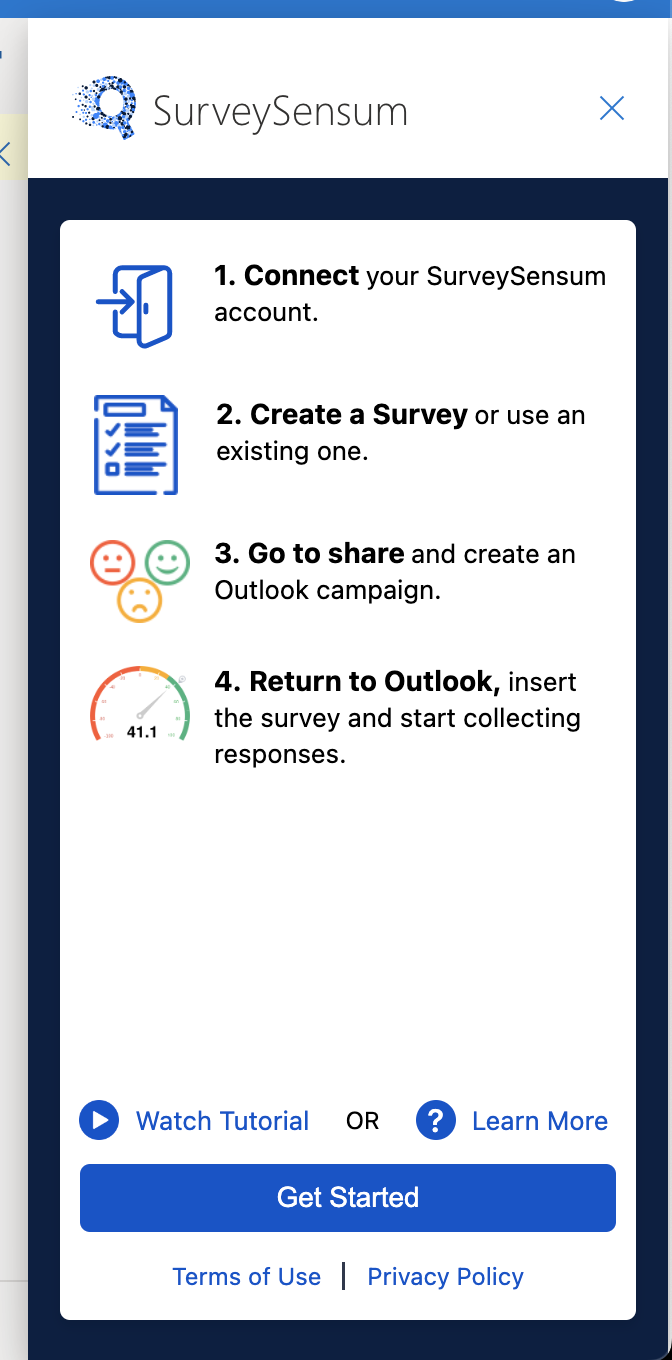 Upon Successful Login, you will see list of surveys in SurveySensum plugin menu on the right, where you can choose which survey you want to add in your email signature.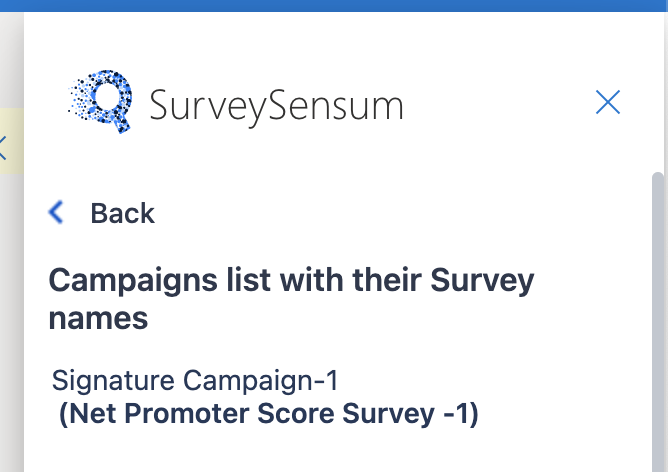 Select Signature Survey to be applied. Make sure the cursor is at the location where you want the survey to be added.

Now, you are ready to draft your email and send to your recipient.
NOTE: To make sure "to", "cc", and "subject " are captured with survey feedback. YOU MUST apply the Campaign to your email as a last step before clicking on Send button.
So, complete your email draft and once you are ready to sent, add the surveysensum feedback survey and click on Send.
Create Survey and share using Outlook Plugin
To get a survey embedded in your mail, create a new survey or make changes to any existing survey in the surveysensum portal.
Login to https://portal.surveysensum.com
Upon successful authentication you will be prompted to create a new survey (in case of a new sign-up) or will able to see the list of your existing surveys.
For more details on creating surveys and accessing help documents, visit https://help.surveysensum.com/portal/en/kb/surveysensum
After creating a survey, go to the share tab and click on "Outlook Add-in" and hit Save.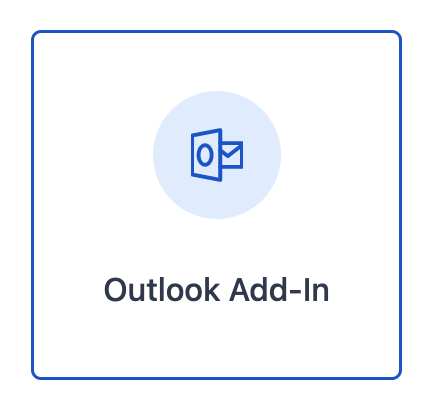 Now, you are ready to use this signature survey in your emails.